Lobbying, Simplified: Getting Out There, Knowing the Rules, and Reporting Your Costs
Presented by: Brian Bender, Senior Manager & Co-Chair of Nonprofit Practice Group, S.R. Snodgrass, Anne Gingerich, MSW, Executive Director, PA Association of Nonprofit Organizations (PANO), & Anne Dudro, Commonwealth Consulting Partners
Synopsis: With 2020 being an election year that is also plagued by a global pandemic, more nonprofits are connecting with legislators than ever before. Many 501(c)(3)s don't lobby enough due to fears that they may not be in compliance with the law, others don't know enough about legal guidelines. This workshop includes the perspective of an executive director, a lobbyist, and an accountant—tips for a strong lobbying strategy, tracking expenses accurately, and stories from people in the field. Whether your nonprofit is new to advocacy or has operated in the lobbying arena for quite some time, you will find value in this session where we will examine lobbying compliance at the both the state and federal level. Bring your questions and your calculator!
Learning Goals:
Outline PA vs federal rules for lobbying
Recognize how IRS reporting differs under PA vs federal law
Understand the various definitions of lobbying and where they should be used
Know what expenses should be considered in calculating lobbying costs
Consider common pitfalls that organizations and associations encounter when it comes to lobbying compliance
When: Wednesday, October 28,
11:45 am – 1:00 pm
Track: Advocacy
Target Audience: Nonprofit Leaders (Executive Directors/CEOs, Board Members), Financial Staff, GR Professionals, Consultants
Brian Bender
Senior Manager & Co-Chair of Nonprofit Practice Group, S.R. Snodgrass
Brian is a Senior Manager and Co-Chair of the S.R. Snodgrass Nonprofit Practice Group. He has dedicated over 15 years to serving trade associations, membership organizations, social clubs, foundations, charities, and numerous other nonprofit entities.  With a decade of experience in public accounting, and 5 years serving as a financial executive for several large trade associations and an international membership organization in Washington, DC, he brings a unique perspective to serving his clients. He has presented at various industry events, including the annual American Institute of Certified Public Accountants (AICPA) Not-for-Profit Industry Conference and recently completed a three-year term on the AICPA Not-for-Profit Entities Expert Panel, during which he served as an instructor in the AICPA's Nonprofit Certificate Program.  He has extensive knowledge of internal controls best practices, policy and procedure development, financial budgeting and reporting requirements, Statements on Standards for Accounting and Review Services (SSARS), agreed-upon procedures, U.S. Department of Labor Regulations and ERISA requirements as they relate to audits of employee benefit plans, and the IRS Form 990/990T.
Brian is a Certified Public Accountant and Certified Association Executive with a bachelor's degree in accounting from West Virginia University. He also earned a Master of Business Administration degree, with a concentration in entrepreneurship, from Suffolk University's Sawyer Business School.   Brian is a member of several professional organizations, including the AICPA, the Greater Washington Society of Certified Public Accountants (GWSCPA), the Pennsylvania Institute of Certified Public Accountants (PICPA), and the American Society of Association Executives (ASAE).
Anne Gingerich, MSW
Executive Director, PA Association of Nonprofit Organizations (PANO)
With a firm belief in the abundance of resources available, Anne loves to don her visionary hat and consider what might be possible for PANO members, the nonprofit community and PANO in partnership with various organizations, companies and government entities. Anne approaches her work from a systems approach, engaging multiple individuals and groups to identify and implement collaborative solutions to community problems.
Prior to her work as PANO's Executive Director, Anne worked for Millersville University, Lancaster General Health Foundation, United Way of Lancaster County, and the American Red Cross of the Susquehanna Valley. Anne currently serves as a board member of United Way of Pennsylvania.
 She earned her Bachelor of Arts in Social Work at Millersville University and her Masters of Social Work at Marywood University. As the owner of a beautiful Victorian home in Lancaster County, Anne enjoys cooking, Rails-to-Trails biking, reading, and good coffee.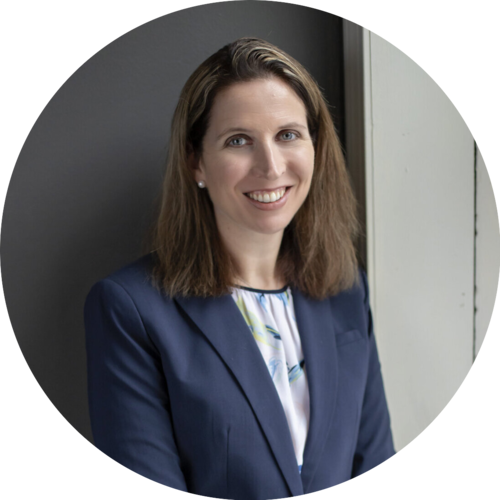 Anne Dudro
Commonwealth Consulting Partners
Anne Dudro brings almost two decades of federal policy experience to the Commonwealth Consulting Partners team. Anne's career has been focused on expanding and advancing strong policies and innovative solutions to complex problems. Prior to joining Commonwealth, Anne was a Senior Associate at HCM Strategists, where she oversaw multiple client portfolios, acting as main point of contact for the philanthropic branches of Fortune 500 companies and multi-million dollar portfolios focused on educational and health care issues in the United States.
Anne served as Chief of Staff for the Office of Elementary and Secondary Education, at the U.S. Department of Education, from 2006-2008. Before joining the Department, Anne served in two staff positions at the White House from February 2002 to February 2005. Working directly for the Deputy Chief of Staff for Policy, Anne assisted in the coordination and management of four policy councils, and the presidential policy development process. Previously, Anne served in the Office of Speechwriting, where she worked with senior communications and policy advisors to ensure accurate reflection of Administration policies. Anne started her career at the political consulting firm American Continental Group.
Check Out More Sessions.
Each day of the virtual conference will feature workshops in the following workshop tracks: Advocacy, Building the Plane While Flying It, Caring for Ourselves & Each Other, Fundraising & Communications, and Leading through Change.