Presented by: Priya Parker, Master Facilitator, Strategic Advisor, Acclaimed Author, and Podcast Host
Synopsis:As the world shifts to physical distancing during the coronavirus pandemic, the practical questions about gatherings ("Should we postpone or switch to a virtual event?") are quickly transforming into spiritual ones: "Is this needed? Who is it for? And who gets to decide?" In her innovative New York Times op-ed, "How We Gather Digitally Now," Priya Parker writes, "This heavy time could be leavened by the new rituals it created, the unlikely intimacies it fostered and the ways in which it revealed that convening people is a special privilege that ought never to be taken for granted." Through virtual conversations with audiences, Parker shares how to invent creative, meaningful ways of being apart to provide comfort, create rituals, and foster togetherness during unpredictable times. Join us as we reimagine what it means to be "together apart" in this fireside chat-style conversation with master facilitator, strategic advisor, acclaimed author, and podcast host Priya Parker!
When: Wednesday, October 28,
9:00 – 10:05 am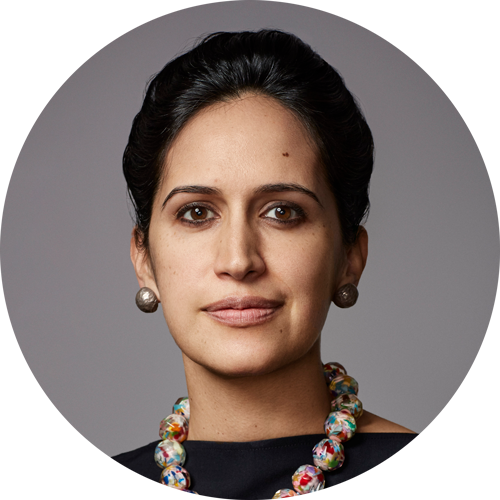 Photo Credit to Mackenzie Stroh
Priya Parker
Master Facilitator, Strategic Advisor, Acclaimed Author, and Podcast Host
Priya Parker is helping us take a deeper look at how anyone can create collective meaning in modern life, one gathering at a time. She is a master facilitator, strategic advisor, acclaimed author of The Art of Gathering: How We Meet and Why it Matters, and executive producer and host of the New York Times podcast, Together Apart. Parker has spent 15 years helping leaders and communities have complicated conversations about community and identity and vision at moments of transition. Trained in the field of conflict resolution, Parker has worked on race relations on American college campuses and on peace processes in the Arab world, southern Africa, and India.
Parker is a founding member of the Sustained Dialogue Campus Network, a member of the World Economic Forum Global Agenda Council on Values Council and the New Models of Leadership, and a Senior Expert at Mobius Executive Leadership. She studied organizational design at M.I.T., public policy at the Harvard Kennedy School, and political and social thought at the University of Virginia.
Parker's The Art of Gathering: How We Meet and Why It Matters (Riverhead, 2018) has been named a Best Business Book of the year by Amazon, Esquire Magazine, NPR, the Financial Times, 1-800-CEO-READS and Bloomberg. She has spoken on the TED Main Stage, and her TEDx talk on purpose has been viewed over 1 million times. Parker's work has been featured in numerous outlets including the New York Times, the Wall Street Journal, NPR, TED.com, Forbes.com, Real Simple Magazine, Oprah.com, Bloomberg, Glamour, the Today Show and Morning Joe. She lives in Brooklyn, NY with her husband, Anand Giridharadas, and their two children.
www.priyaparker.com
Check Out More Workshops.
Each day of the virtual conference will feature four workshops in the following workshop tracks: Advocacy, Communications, Finance & Strategy, Leadership, People Power, Resource Development.